The Joinville Project
Victory Land Fund:
We need to raise funds for the purchase of land for the Igreja Batista Vitória (Victory Baptist Church) in Joinville.
Each box bellow represents 1% of the total Dollar amount needed to purchase the Land for this Church.
If you are led to help, please send all gifts to Macedonia World Baptist Missions specified "The Joinville Project".

"Pray ye therefore the Lord of the harvest, that he will send forth labourers into his harvest."


(Matthew 9:38 KJV)
"Then saith he unto his disciples, The harvest truly is plenteous, but the labourers are few;"


(Matthew 9:37 KJV)
"How then shall they call on him im whom they have not believed? and how shall they believe in him of whom they have not heard? and how shall they hear without a preacher?
And how shall they preach, except they be sent? ..."


(Romans 10:14-15a KJV)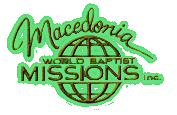 Boxes in

red

represent amount given toward this need.
Praise the Lord! We have 15%!