We are The James Allen Family
Second Generation Missionaries to Brazil
Macedonia World Baptist Missions Inc.
The Joinville Project
About us: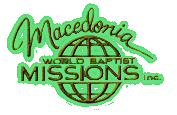 Please allow me to introduce my family and me. My name is James Allen. I was saved by grace through faith in Jesus Christ at age 7 and called to preach and missions at age 18. I am a second Generation Missionary to Brazil, South America. My wife's name is Soraia. She is Brazilian and was led to the Lord by my father, Dr. Phillip R. Allen who served in Brazil for 33 ½ years. Saved at age 16, Soraia surrendered her life to missions at age 17. We married on July 16, 1988. We have four children, Matthew, Priscilla, Stephanie and Frank. We are sent out by Victory Baptist Church in Loganville, GA. Derik Lawrence is our Pastor. We have been serving the Lord with Macedonia World Baptist Missions Inc. since 1991.

While attending Bible College in Lawrenceville, GA, My wife and I served the Lord at our Home Church in the Bus ministry and Children's Church as well as weekly visitation and soul winning. With Deputation completed in two years and eight months, we left for Brazil in August 1995. We worked with my parents for the first eight years in establishing two churches and the rehabilitation of another one into Fundamental Baptist doctrine. We worked in the Bible Institute, Camp ministry, Youth and Awana programs, as well as assisting my Dad in everything else related to the ministry.

In 2003 the Lord led us to start a new church in the city of Joinville. With almost Six-hundred thousand souls, it is the largest city in the southern state of Santa Catarina. This is where we have worked for the past ten years. God has blessed and the church that we named Victory Baptist, now has 35 faithful members and a National pastor named Ricardo Hogrefe.


We are currently working in a new church plant in the Adhemar Garcia neighborhood.​